Her Pony Fashion Label - Riding high on business success
Designer Lauren Stein started Her Pony with a vision, her sewing machine and an obsession for vintage clothing.
"I was fed up with the nature of mass-produced labels, and wanted to inspire young women with one of a kind garments and limited-edition seasonal collections."
As the Her Pony label began to flourish and grow in popularity, so did the demands for the business, and Lauren knew it was time to seek some professional help.
"As a creative person who is happiest with beautiful fabrics and sewing machines whirring away, I knew the business strategy and finance skills I needed were outside of my expertise," Lauren said.
When the team from Robinson Voss met Lauren, we knew we could assist her to follow her creative dreams and build a successful and supportive working environment.
Like many young entrepreneurs, Lauren started her business with enthusiasm, a passion to succeed and a true belief in the power of social media.
When we first met with Lauren it was clear her current business model could not enable sustainable growth of the business in the long term. As is the case with many new enterprises, her accounting records were not substantial and didn't provide robust financial information which could be used for informed decision making.
By gaining a clear understanding of Lauren's goals to take the business to the next level, we were able to consider an operating structure that was appropriate for the business needs.
Empowering growth and prosperity
By working closely with Lauren, we were able to overcome they key obstacles preventing business growth and efficiencies, without losing momentum for the business.  This has entailed setting solid foundations for the business – an appropriate business structure, real time reporting, managing tax and other compliance requirements, and establishing a computerised payroll system.
A business restructure was considered to support expansion and protect Lauren's personal assets. A new management and accounting system was implemented to provide accurate information about how the business performs, creates efficiencies and helps Lauren stay focused on her core strengths without the worry of day to day business operations.
The business advice and financial mentorship offered through monthly coaching and accountability meetings provides Lauren with timely information that helps decision making that in turn, allows her to meet her targets.
To Lauren's great credit, she has implemented our recommendations and now has a more intimate understanding of her business.
Over the years, Her Pony has grown to a team of more than 20 people working across Australia and Indonesia.
Buoyed by the success achieved to date, Lauren and her team are looking to the future with great confidence.
In addition to building their reputation as a unique brand amongst the Australian fashion e-commerce space, Her Pony continues to grow sales in new markets, in particular the US.
As with any growing enterprise, there are still challenges to face. Robinson Voss Partners and Lauren continue to work closely together to bolster the team and drive the online marketing/delivery capabilities to new levels.
Knowing the business fundamentals are firmly in place, Lauren is enjoying spending her time proactively building her business, confident that her trusted adviser Robinson Voss Partners is readily available, as and when required.
What Lauren has to say...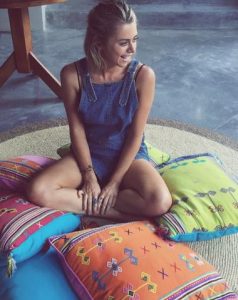 We've been delighted with the advice and assistance received from Robinson Voss Partners and I would recommend them to any business owner in a heartbeat. Thanks to them we have doubled the business and have plans to do more!
Lauren Stein, Owner and Designer, Her Pony